About Redbalifrog
Redbalifrog was established in 2007 as a cottage industry.
All our 925 silver pieces are created using the lost wax casting process and hand finished by locals in and around Ubud, Bali.
Our intentions with Redbalifrog are to create beautiful hand crafted pieces of art that everyone can wear. Giving back to the beautiful island and people of Bali is the essence of who we are.
The purchases you make help improve the lives of many Balinese families.
Amanda Bazarow
 Amanda Bazarow - is the founder and designer of *redbalifrog* beads, she lives in Sydney, Australia. Redbalifrog was started when on a visit to Bali in 2007. The inspiration for her designs have come from things she loves, suggestions from friends and family and objects she finds on her travels. Amanda will continue to produce interesting and exciting pieces to add to her range.
 Yande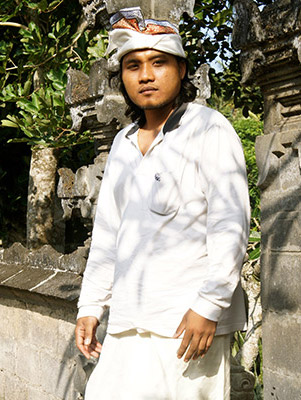 Yande lives in a village near Ubud, Bali. A family tradition of silver work was taught to him at a young age and he has continued to master this craft. His interpretations of all redbalifrog designs are done with precision and attention to detail. His carvings are so intricate, they often take days to complete.
Yande is very proud of his heritage and spends quality time with his family and being present at all local ceremonies and celebrations. The making of redbalifrog silver beads help to support many families in and around the area of Ubud.